International Understanding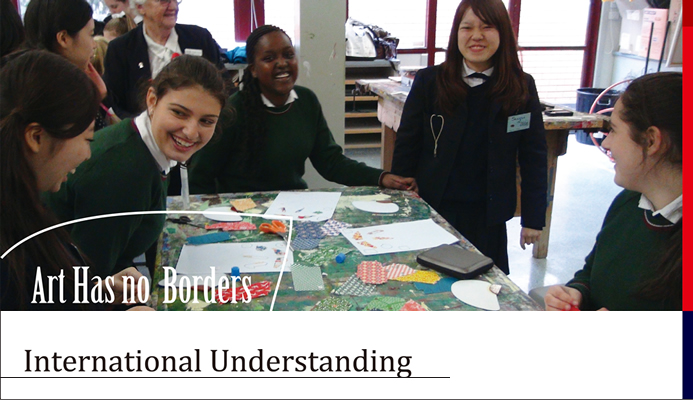 Being open to the world around you as a young person studying art
Art transcends national borders. However, individuals can only transcend national borders if they themselves take the steps required to do so.
Art can be understood and appreciated even without words, but when words are spoken, the connection becomes stronger and our understanding increases.
Study languages, mix with different people, walk through strange towns, and experience the cultures of other countries.
In order to take that first step, you must have a great deal of curiosity as well as a bit of courage.
At the Joshibi High School of Art and Design, we provide a range of programs designed to serve as the first step to preparing each and every student to play an active role in society. Are you ready to make your mark in the world as a young person studying art?
Australia Language and Art Program
The best way to learn a language is to make and discuss art
At the Joshibi High School of Art and Design, selected high school students can participate in the Australia Language Program in Sydney or Melbourne. Located in the southern hemisphere, Australia has long been a country that is a friend to Japan, and it has been a popular destination for Japanese tourists for many years. The official language in Australia is English, and it is also one of the many countries where young Japanese go to learn this language.
The Joshibi High School of Art and Design offers students overseas study programs that include homestays and language courses at local schools, in addition to their normal classes, as a means of developing their foreign language skills. A key feature of the Joshibi High School of Art and Design language program is the opportunity for students to create artworks together with junior and senior high school students at a local school. Creating an artwork as a joint endeavor requires communication. Discussion is a natural part of the creative process. The exchanges that take place during the process of creating a piece of art help students to improve their language skills. Students also experience a culture that is different to their own, and are provided with rare opportunities to come into contact with Australian art, such as art gallery tours and a workshop at the Aborigine Centre. At the art galleries, students listen to in-depth artwork briefings delivered in English by local curators. Students also see aboriginal art at the workshop and produce artworks themselves, which gives them a deeper appreciation of this unique form of art than they would be able to get by merely viewing it.
Art Exchange Program with China Central Academy of Fine Arts
The exchange program with the Fine Arts School Affiliated to China Central Academy of Fine Arts in Beijing was first proposed by Kan Irie, a former principal (now special advisor) of the Joshibi High School of Art and Design, who stressed the importance of studying many wonderful examples of cultural art in the East, rather than focusing exclusively on the West.
The program includes a joint exhibition of student works called the Friendship Exhibition, as well as visits by participating groups to both countries. In this way, teaching staff from both schools are sent on exchanges to each other's schools, where classes and research take place.
Art Exchange Program with Sonoma Academy
The international exchange committee has been involved in an international art exchange program for students with Sonoma Academy in Santa Rosa, California, in the United States, since 2011.
The exchange program involves both schools submitting ideas, deciding on themes, and producing works of art.
Students produce a variety of different types of artworks, including rubber block prints, that convey traditional designs in the United States and Japan, as well as Face Illustrations, combine the students' photograph with their personal world view. The finished artworks are uploaded into the art program blog at Sonoma Academy, and this promotes exchanges between the students.
Art Exchange Program with Boston Latin Academy
The art exchange with the Boston Latin Academy in the United States is a sharing of artworks.
The artworks that are exhibited at the Nike Exhibition, which is held at the Joshibi High School of Art and Design every November, are without exception excellent. This year we had 12 pieces on display.